I met Liz Fraser at Autographica held near London's Heathrow Airport in March 2007. She was very 'bubbly' and 'chatty' and happily added her signature in my Carry On book and also on my poster.
Liz Fraser signing my 'Carry On' book at Autographica
Liz Fraser in Carry On Cruising

Liz Fraser & Dilys Laye in Carry On Cruising
Carry On Regardless
Liz Fraser & Sid James in
As Sally in Carry On Cabby (right)
A 1969 photo of Liz Fraser
Liz Fraser kisses Peter Sellers in Two Way Stretch
Along with her 52 films, Liz has seven West End plays to her credit, ranging from George Bernard Shaw's Too Good To Be True to Alfie.
None of these did much for Liz's reputation as an actress, but later, in the 1980s and 1990s, she was seen almost exclusively in TV, sometimes with some memorable performances. As Mrs Brent for example, she was very impressive in the Agatha Christie 'whodunnit' Nemesis (1987) which starred Joan Hickson and Margaret Tyzack. Her more recent TV work has included The Bill (1994), Last Of The Summer Wine (2000), Foyles War (2007) and Holby City (2007).

Liz played Ian Lavender's mother, Mavis Pike, in the film version of the long-running TV comedy Dad's Army (1971) although during the 1970s, she was mostly seen in second-rate 'sex comedies' like Confessions of a Driving Instructor (1976), Under The Doctor (1976), Adventures of a Private Eye (1977) and Rosie Dixon - Night Nurse (1978).
Liz Fraser has four Carry On films to her name. She plays Delia King, one of a bunch of no-hopers joining an agency in search of a job, in Carry On Regardless (1961); sexy passenger Glad Trimble looking for a boyfriend for her pal Flo Castle (Dilys Laye) in Carry On Cruising (1962); canteen girl Sally in Carry On Cabby (1963) and Sylvia Ramsden in the mixture of archaeology and camping that is Carry On Behind (1975).
Liz was just a pretty face in The Pure Hell At St Trinians (1960) and The Bulldog Breed (1960 with Norman Wisdom, but she showed her more serious side starring as Jo Lake in the thriller The Painted Smile (1962) and as Molly Thompson in the Roy Boulting directed The Family Way (1966).
Liz Fraser made her name as an actress by playing vaccuous, gum-chewing, "dumb blondes". Early in her career, she was part of Tony Hancock's TV series, appearing in 7 TV episodes of Hancock's Half Hour in 1959, and on film with Sid James in Desert Mice (1959) and Double Bunk (1961). At this time she also played opposite Peter Sellers in two films - as his daughter Cynthia in I'm All Right Jack (1959) and as his girl friend Ethel in Two Way Stretch (1960).
Liz Fraser was born in London in1933. Her birth name was Elizabeth Winch, a name that she was to later use in the film Alive And Kicking (1959). She has also been credited as Elizabeth Fraser in some early TV appearances such as Dixon of Dock Green (1957-58).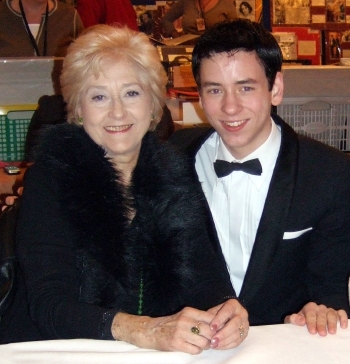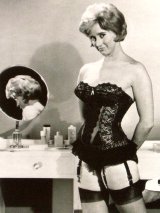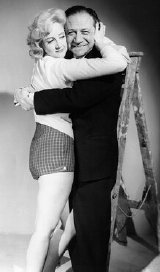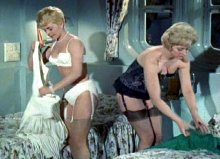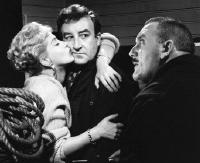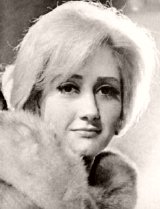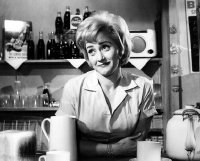 Not only is Liz a very fine bridge player, she was also a ladies' bowls champion at the famous Hurlingham club.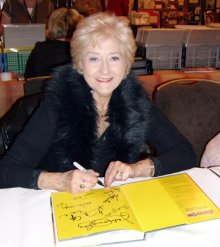 Liz Fraser (1930-2018)
Click on a name below to take you to that page
Liz Fraser died on 6th September 2018.